We've all tried fathead pizza by now, but what about combining pizza and waffles? These Fathead Pepperoni Waffle Pizza Dippers are a fun new spin on keto pizza.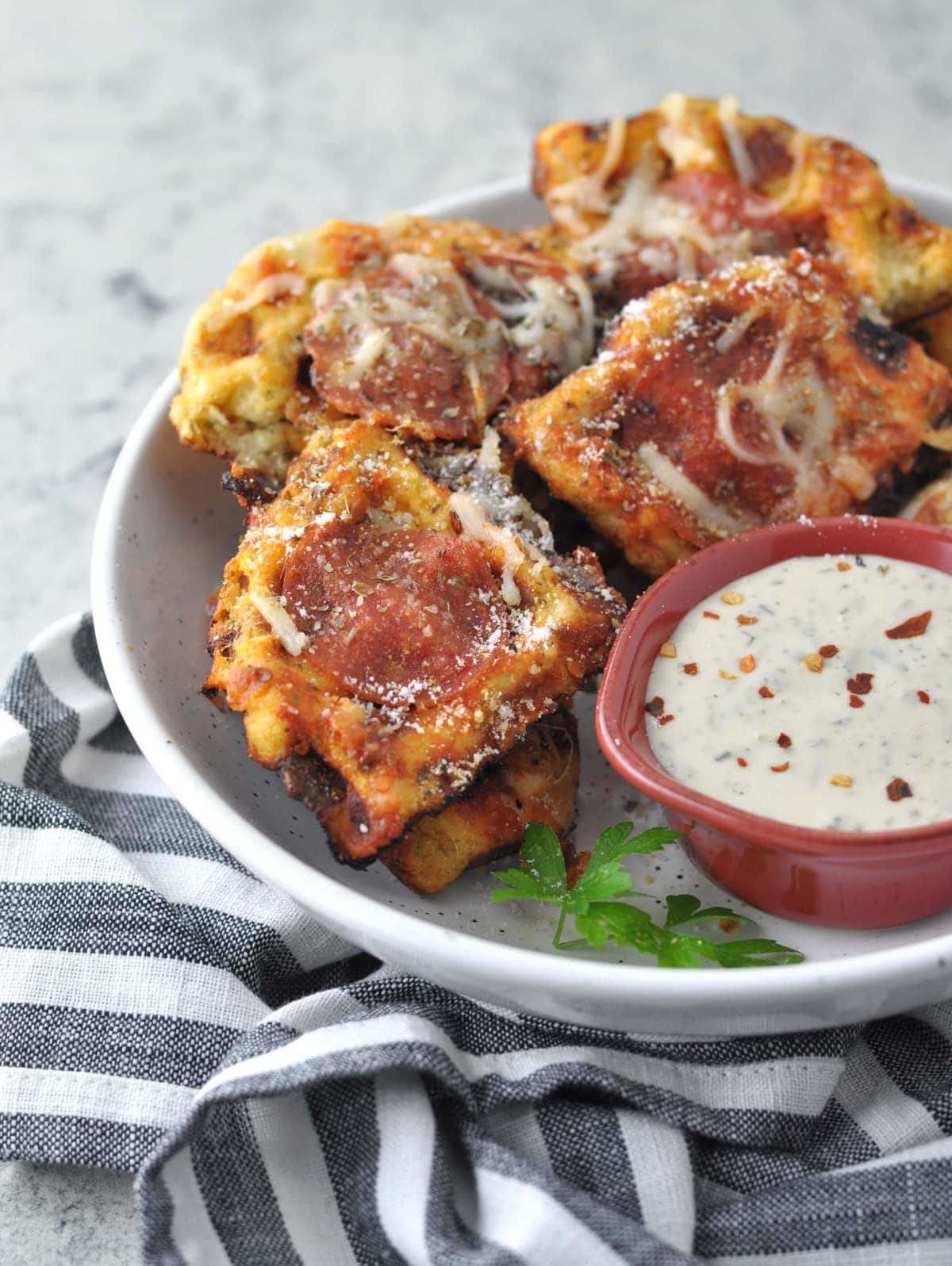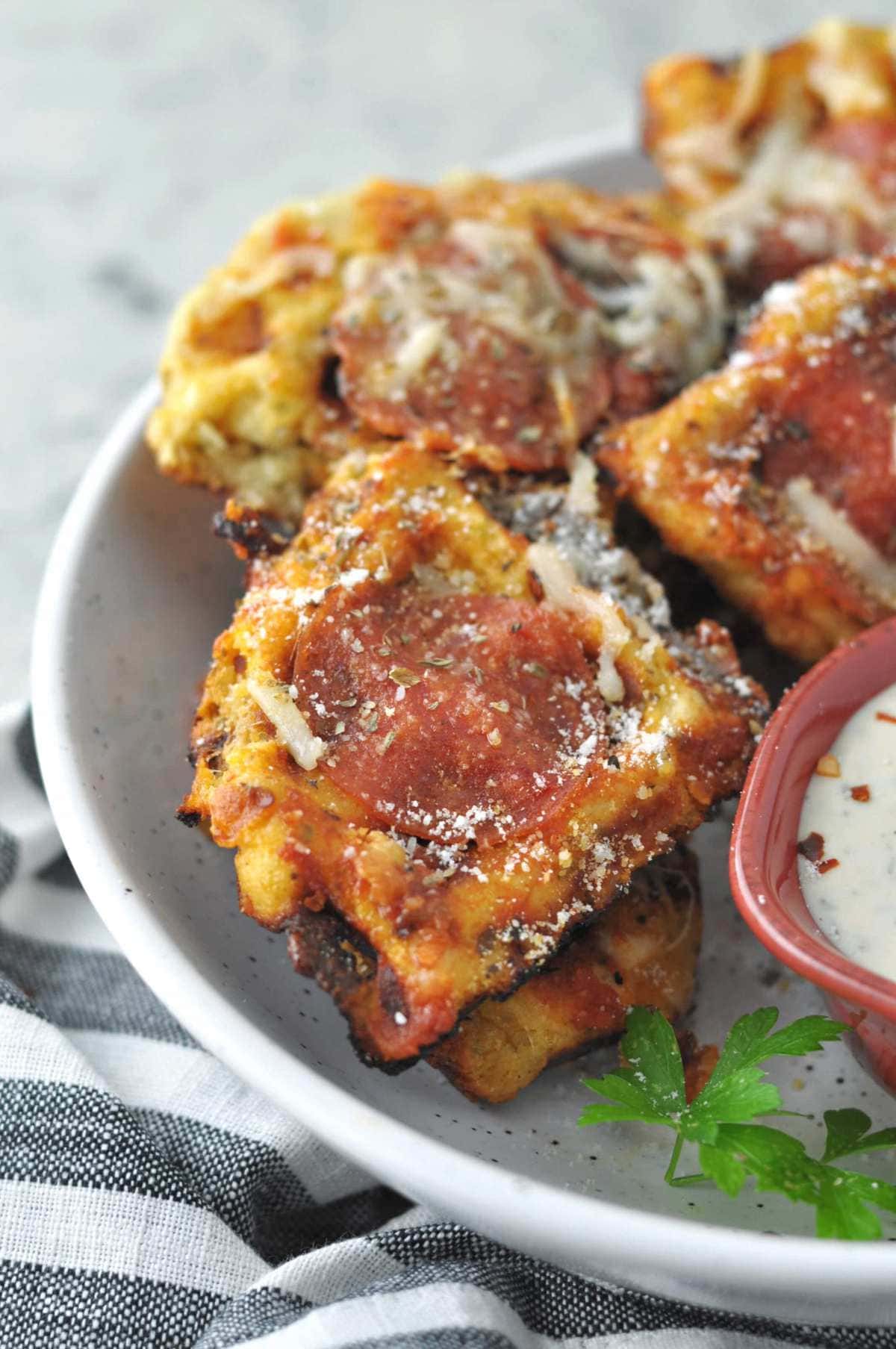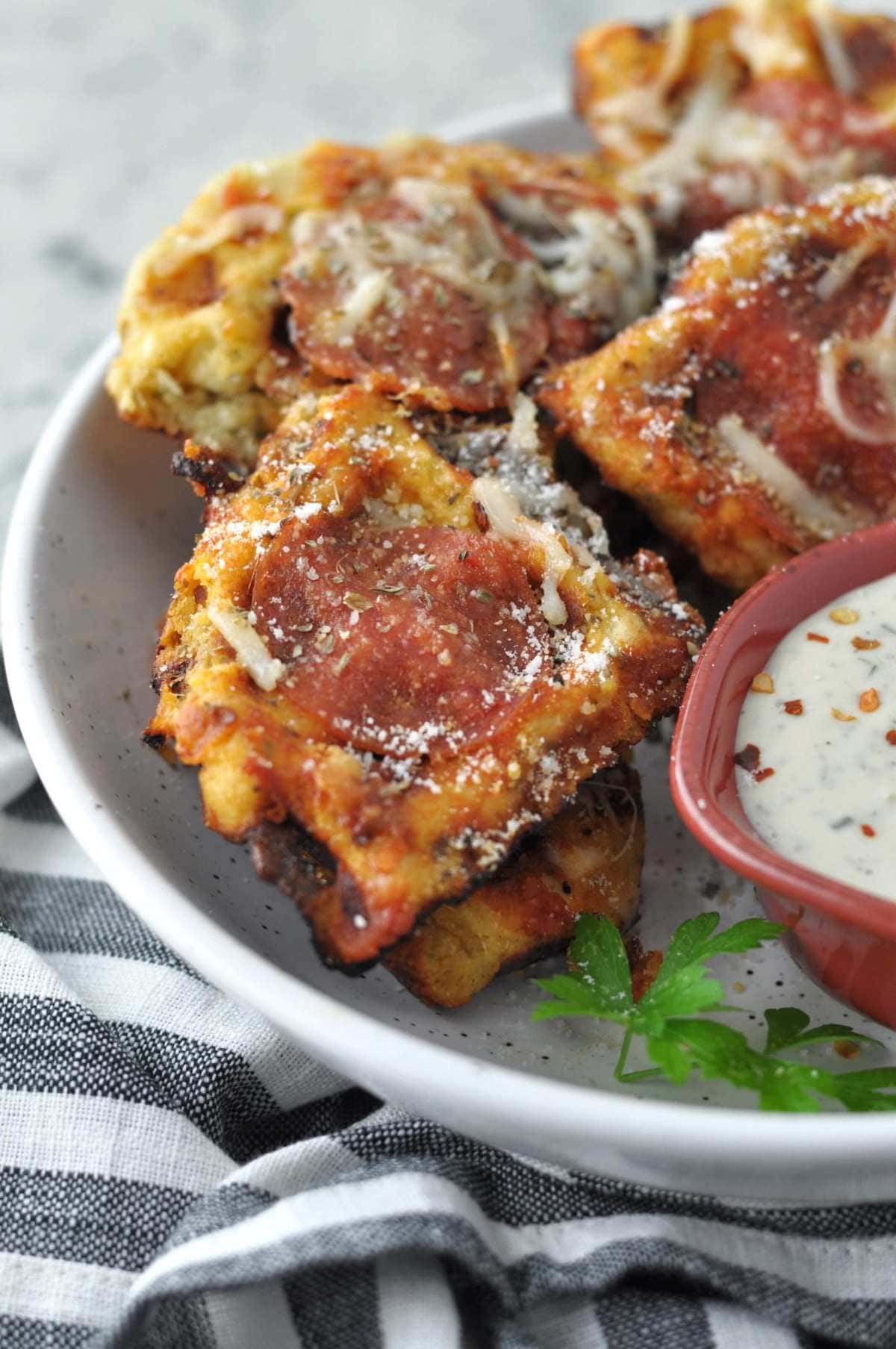 There is nothing quite like pizza. It is classic comfort food in all its glorious perfection. When I first switched to a low carb, ketogenic lifestyle, pizza was one of the foods that I knew I would never give up. At least not if I wanted to be success at making keto a lifestyle and not a diet. In fact, if you go back through the earliest archives on my site, you will find a wide variety of different keto pizza recipes. These Fathead Pepperoni Waffle Pizza Dippers are just the newest addition to the collection.
When the craving for pizza hits, there is absolutely nothing that can curb it except for PIZZA. At any given time you can open my fridge and you are sure to find mozzarella cheese, pepperoni, and a jar of low carb pizza sauce. Honestly, that is all I need to scratch the itch.
If I don't have the ingredients on hand to whip up a fathead pizza crust, or even my keto nut free pizza crust, then I will just toss the ingredients in my trusty cast iron skillet and make low carb skillet pizza instead. BUT, when that craving strikes first thing in the morning, my go-to recipe is always keto pizza eggs. You might be thinking "pizza and eggs? No way!" Trust me, you have no idea what you are missing. Run, don't walk to your kitchen and try them.
Fathead pizza crust and fathead dough in general pretty much revolutionized the low carb world in terms of its flexibility and ability to recreate so many of our favorite foods into low carb, keto versions. Take for example these Keto Everything Bagels, or these Hot Ham and Cheese Roll-Ups with Dijon Butter Glaze. I made these with different variations of the traditional fathead recipe. The sky is truly the limit with this dough. But enough of my rambling, let's get to these Fathead Pepperoni Waffle Pizza Dippers. They are pretty much my new favorite low carb appetizer recipe. Or low carb anytime recipe…Because PIZZA! Am I right?
In addition to this Fathead Pepperoni Waffle Pizza, check out some of my other favorite low carb pizza recipes: Keto Bacon Cheeseburger Pizza Supreme Pizza Casserole Pizza Frittata Pepperoni Pizza Stuffed Peppers Low Carb Greek Pizza Pepperoni Pizza Pinwheels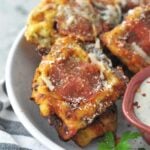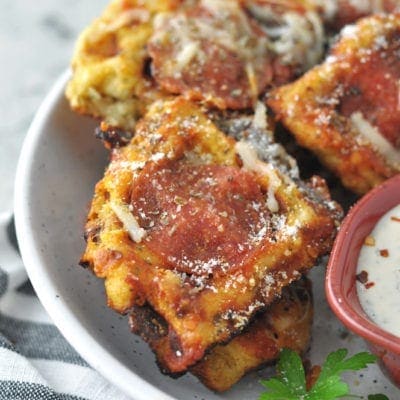 Fathead Pepperoni Waffle Pizza Dippers Author: Kyndra Holley
Prep Time: 10 minutes
Cook Time: 10 minutes
Total Time: 20 minutes
Yield: 4 servings
Print Recipe
Pin Recipe Ingredients 1 1/2 cup mozzarella cheese, shredded 3 tablespoons cream cheese 1 large egg 3/4 cup blanched almond flour (I use this brand) 1 teaspoon garlic powder 1 teaspoon onion powder (I use this brand of spices) 1 teaspoon Italian seasoning 1/2 teaspoon black pepper ¼ cup pizza sauce, extra for dipping (get my recipe here) 12 slices pepperoni 1/4 cup shredded mozzarella cheese 1/2 teaspoon dried oregano Instructions Preheat a waffle iron. In a large microwave safe mixing bowl, combine mozzarella and cream cheese. Microwave for 1 minute. Remove from microwave and stir to combine. Return to microwave for 1 additional minute. To the mixing bowl, add egg, almond flour, garlic powder, onion powder, Italian seasoning, and black pepper. Mix until all ingredients are well incorporated. If the dough becomes too sticky and unworkable, wet your hands. Place the dough on a piece of parchment paper and divide into two equal balls. Spread each one and flatten in a circle the size of your waffle iron Lightly grease the waffle iron and put one of the pieces of dough in the waffle iron. Top with 2 tablespoons of the pizza sauce, and 6 slices of the pepperoni. Close the lid and cook until the dough is cooked through and the edges are nice and crispy. Remove the pizza from the waffle iron and top with 2 tablespoons of the mozzarella cheese, and 1/4 teaspoon of the oregano. Repeat the same process with the other piece of dough. Cut the finished waffles in fourths and serve with extra pizza sauce, for dipping. Notes
Net Carbs Per Serving: 3g
Nutrition Serving Size: 2 pieces Calories: 362 Fat: 14g Carbohydrates: 5g Fiber: 2g Protein: 10g
Keywords: low carb pizza, keto pizza, waffle pizza, gluten free pizza, keto recipes, low carb recipes
Did you make this recipe?
Tag @peaceloveandlowcarb on Instagram and hashtag it #peaceloveandlowcarb
The post Fathead Pepperoni Waffle Pizza Dippers appeared first on Peace Love and Low Carb.
Read more: peaceloveandlowcarb.com